Laboratory Filtration Market - Growth, Trends, Covid-19 Impact, and Forecasts (2023 - 2028)
Laboratory Filtration Market - Growth, Trends, Covid-19 Impact, and Forecasts (2023 - 2028)
24 January 2023 | Tuesday | News
---
The Laboratory Filtration Market is segmented by Technology (Microfiltration, Ultrafiltration, Reverse Osmosis, Vacuum Filtration, and Nanofiltration), Product (Filtration Media, Filtration Assemblies, and Filtration Accessories), and Geography (North America, Europe, Asia-Pacific, Middle-East and Africa, and South America).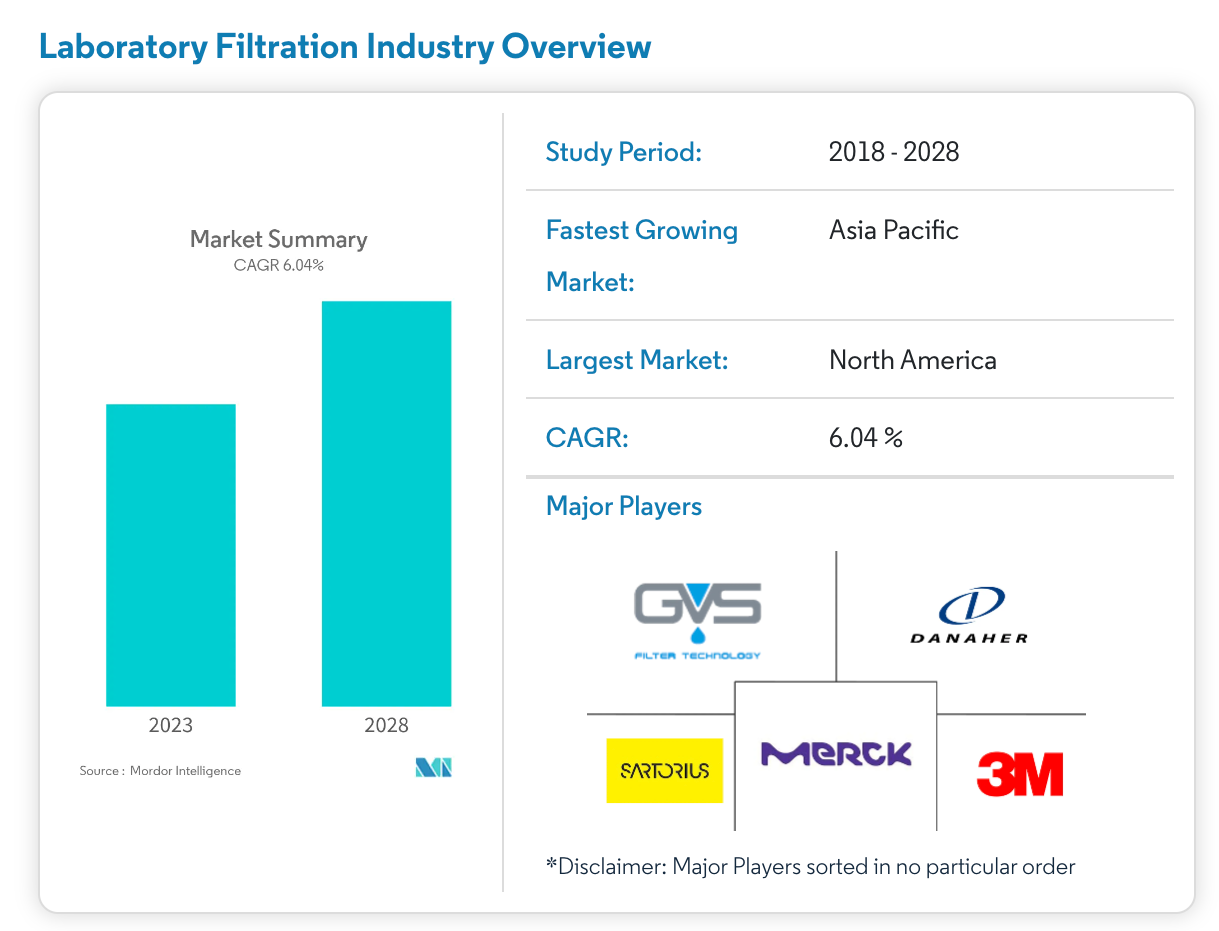 Laboratory Filtration Market Analysis
The global demand for laboratory filtration has grown significantly in the past two decades. Clinical laboratories are representing an area of healthcare, which has always undergone some major changes due to technological advancements. Many new laboratory filtrations have been introduced as the result of both research and fundamental pathogenesis of diseases and the development of new methods in themselves.
In clinical laboratories, cost savings have been frequently realized by the consolidation of laboratory sections, with the establishment of central core laboratories. Additionally, laboratory professionals are trained to concentrate on the technical performance and on the achievement and maintenance of the highest quality test results generated in laboratories. Therefore, the rising usage of filtration techniques in clinical laboratories is spurring market growth.
Laboratory Filtration Industry Segments
As per the scope of this report, the laboratory filtration market covers consumables and apparatus used for filtration processes in a laboratory setting. The research scope does not cover Industrial purification & filtration systems used in pharmaceutical and biotech manufacturing processes.
The laboratory filtration market is segmented by technology (microfiltration, ultrafiltration, reverse osmosis, vacuum filtration, and nanofiltration), product (filtration media, filtration assemblies, and filtration accessories), and geography (North America, Europe, Asia-Pacific, Middle-East and Africa, and South America).
By Technology
Microfiltration
Ultrafiltration
Reverse Osmosis
Vacuum Filtration
Nanofiltration
By Product

Filtration Media
Membrane Filters
Filter Papers
Filtration Microplates
Syringeless Filters
Syringe Filters
Capsule Filters

Filtration Assemblies
Microfiltration Assemblies
Ultrafiltration Assemblies
Vacuum Filtration Assemblies
Reverse Osmosis Assemblies
Nanofiltration Assemblies

Filtration Accessories
Geography

North America
United States
Canada
Mexico

Europe
Germany
United Kingdom
France
Italy
Spain
Rest of Europe

Asia-Pacific
China
Japan
India
Australia
South Korea
Rest of Asia-Pacific

Middle-East and Africa
GCC
South Africa
Rest of Middle-East and Africa

South America
Brazil
Argentina
Rest of South America
This section covers the major market trends shaping the Laboratory Filtration Market according to our research experts:
Microfiltration is Expected to Hold a Largest Share of the Market Studied during the Forecast Period
Microfiltration dominated the global laboratory filtration market, as it is widely used for cold sterilization of API and enzymes and also for the separation of solid-liquid phases in various industries.
Chemical resistance and high thermal stability are the main factors for increasing the adoption of microfiltration in the market studied. Microfiltration enables high separation facility and does not require additional solvents that provide easy operation and implementation of the technique.
In 2019, according to the study of Micromachines, the HIV virus was successfully separated through tangential microfiltration in a continuous flow fashion. Thus, it is expected to boost the demand for laboratory microfiltration in the market studied.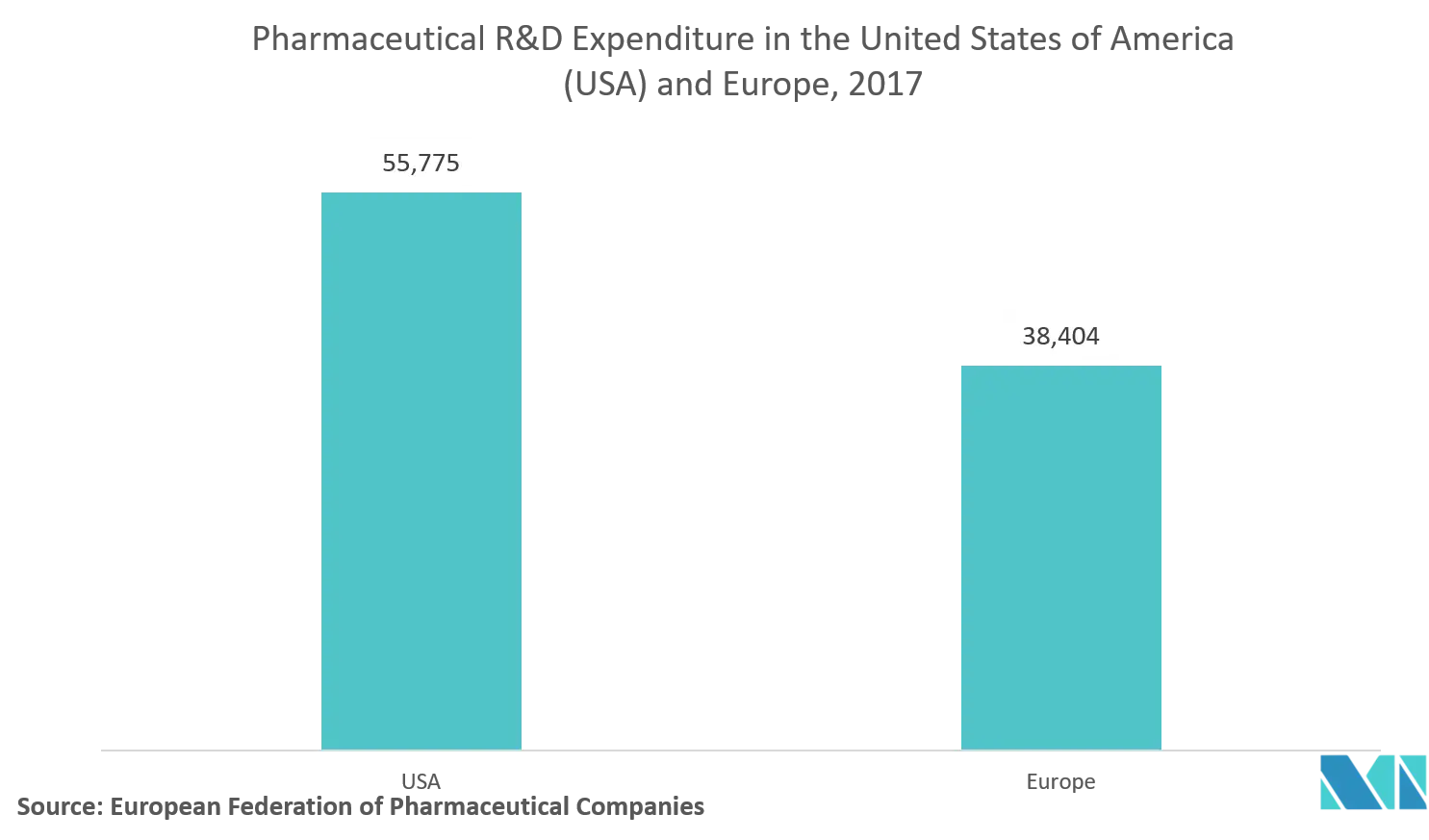 North America holds the Largest Market Share of the Laboratory Filtration Market
North America dominates the market studied, due to the presence of key filtration product manufacturers, the establishment of well-developed laboratories, and the increasing government funding for the basic research.
Furthermore, the United States is the leader in pharmaceutical-related R&D. According to the statistics of the Pharmaceutical Research and Manufacturers Association (PhRMA), the US-based companies conducted over half the world's R&D in pharmaceuticals.
The presence of R&D bases of major pharmaceutical and biotech companies and prominent research and academic institutes, which are the key consumers of filtration products, is making North America the largest market for laboratory filtration products.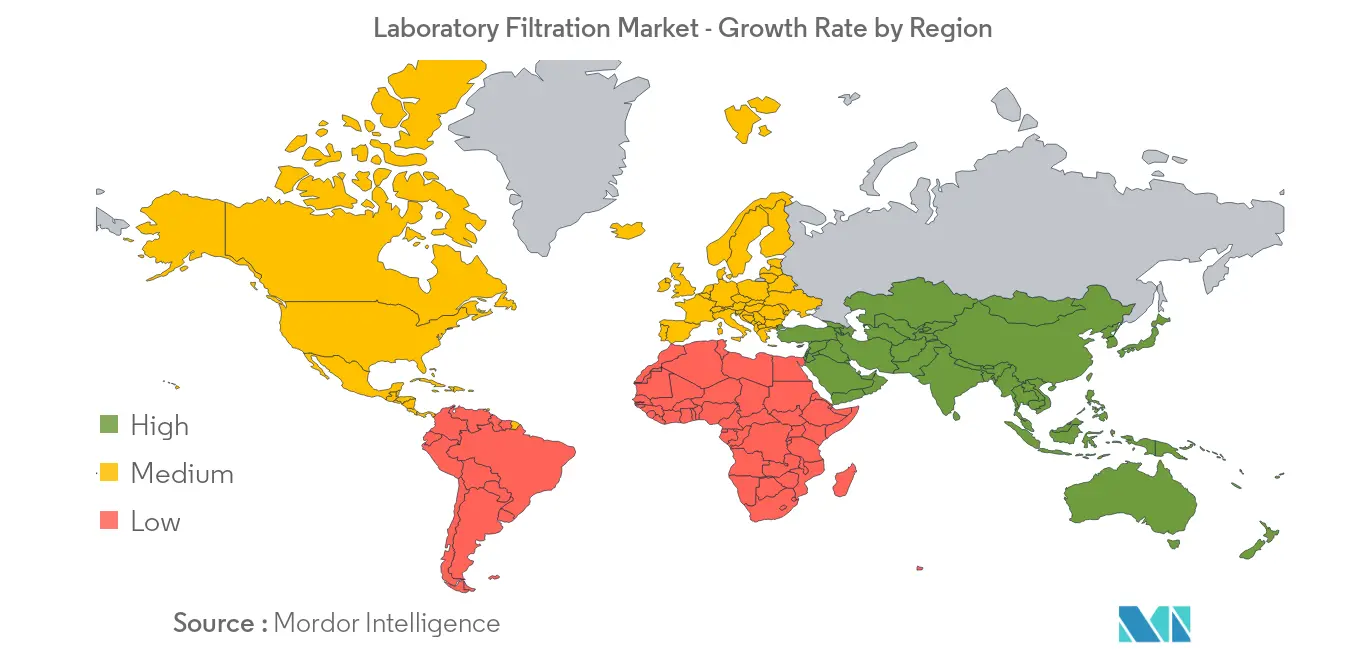 Laboratory Filtration Market Competitor Analysis
The laboratory filtration market competition is set to intensify, as several key players are focusing on the expansion of their laboratory filtration portfolio, through acquisition and collaboration with companies. The market studied is expected to open up several opportunities for new players, as well as currently established market leaders.
Laboratory Filtration Market Top Players
Merck KgaA

Danaher Corporation

3M Company

Sartorius AG

GVS S.p.A
*Disclaimer: Major Players sorted in no particular order