Cell dissociation is an indispensable activity in biopharmaceutical research, as it is involved directly in drug development and pathology elucidation. Consequently, the increased spending by biopharmaceutical companies in R&D activities is driving the growth of the market studied.
Cell Dissociation Market Analysis
The total worldwide R&D spending of pharmaceutical and biotechnology companies increased from USD 108 billion in 2006 to USD 141 billion in 2015. Investments in R&D activities may continue to increase but at half the former pace. As per the report from India Brand Equity Foundation, it is expected that R&D expenses will reach USD 160 billion in 2020.
The biopharmaceutical industry is a rapidly developing sector within the pharmaceutical industry, with enormous opportunities and implications for healthcare. Opportunities in biopharmaceuticals have been increasing over the past decade, as a result of great effectiveness and the safety of these drugs. Biopharmaceuticals offer several benefits, such as highly effective and potent action, fewer side effects, and the potential to actually cure the diseases rather than merely treat the symptoms, which have significantly increased the demand for biopharmaceutical products.
Cell Dissociation Industry Segments
Cell dissociation refers to the act of separating adherent cell monolayers into single-cell suspensions. The cell dissociation process finds tremendous application in regenerative medicine and stem cell research. The cell dissociation products are either enzyme-based or are non-enzymatic buffers.
By Product

Enzymatic Dissociation Products

Non-enzymatic Dissociation Products

Instruments and Accessories
By Tissue

Connective Tissue

Epithelial Tissue

Other Tissues
By End User

Pharmaceutical and Biotechnology Companies

Research and Academic Institutes

Other End Users
Geography

North America

United States

Canada

Mexico

Europe

Germany

United Kingdom

France

Italy

Spain

Rest of Europe

Asia-Pacific

China

Japan

India

Australia

South Korea

Rest of Asia-Pacific

Middle-East and Africa

GCC

South Africa

Rest of Middle-East and Africa

South America

Brazil

Argentina

Rest of South America
Cell Dissociation Market Trends
This section covers the major market trends shaping the Cell Dissociation Market according to our research experts:
Enzymatic Dissociation Products Segment is Expected to Witness a Healthy Growth
Cell and tissue dissociation, primary cell isolation, and harvesting of single cells are the principal applications for enzymes in stem cell research and cell biology studies. The use of enzymes for cell dissociation purposes is widespread. The goal of any dissociation procedure is to maximize the yield of functionally viable dissociated cells. The outcome of any dissociation procedure is dependent on (but not limited to) the type of tissue, age of animal/human, dissociation medium used, an enzyme used, enzyme concentration, temperature, and genetic modifications.
Consequently, a number of enzymes are used in research activities for various purposes. The most prominently used enzymatic dissociation products, in decreasing order of usage frequency, include trypsin, collagenase, elastase, and hyaluronidase, among others.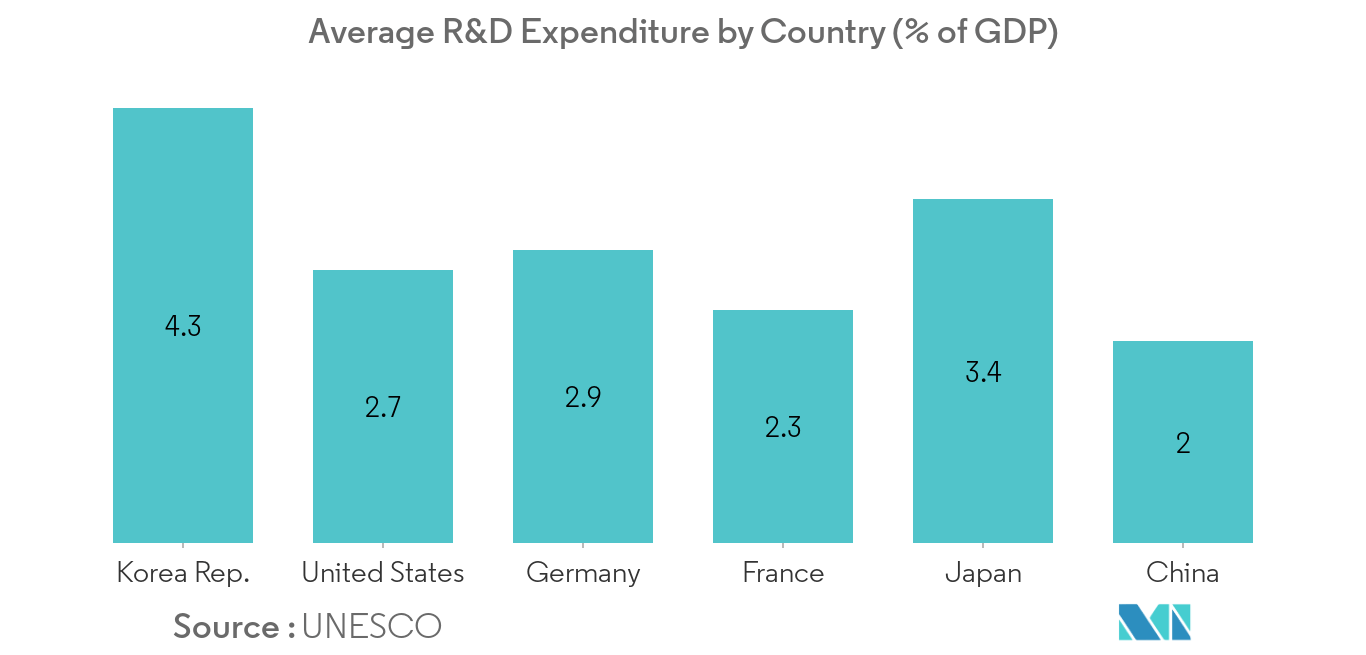 United States to Hold Significant Share of the Market
Sustained growth in pharmaceutical and biotechnology industries, increasing incidences of cancers and other chronic diseases, and a strong trend of R&D investments in life sciences by both industry and academia are the primary factors driving the growth of the market. In the United States, for the fiscal year 2016, USD 520 million was granted by the federal government for National Cancer Institute (NCI) budget, for breast cancer research, USD 800 million for clinical trials, USD 212 million for colorectal cancer research, USD 241 million for leukemia, and another cumulative amount in excess of USD 1 billion for research in other cancer types.
Additionally, the estimates available in the National Institute of Health portal for stem cell-based research indicate a cumulative funding budget of more than USD 3 billion for research in various fields of stem cell applications. Added to that, the presence of a large number of chemicals and chemical analysis providers in the United States, who are adept in supplying both enzymatic products and non-enzymatic products for cell dissociation, is further expected to drive the growth of the US cell dissociation market.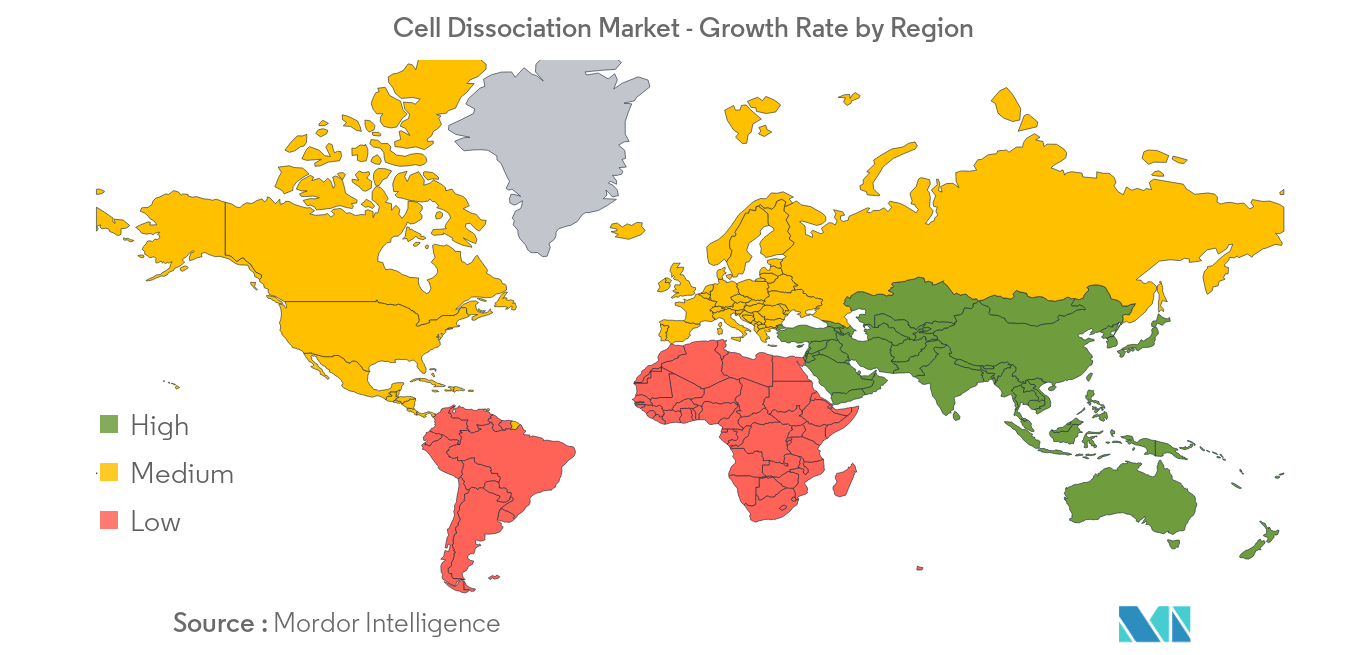 Cell Dissociation Market Competitor Analysis
The market studied is moderately competitive and several local, as well as international players, are posing intense competition across various geographies. Most of the key players of this market are having a good presence in the North America and Europe region. Germany, France, and Italy are some of the European countries where biotechnology companies are trying to establish their R&D plants. Similarly, the United States is a country where all the companies are generating large revenue due to the high adoption of the technologies and increasing use of cell dissociation.
Cell Dissociation Market Top Players
F. Hoffmann-La Roche Ltd.

Merck KGaA

Thermo Fisher Scientific

GE Healthcare

Becton, Dickinson and Company
*Disclaimer: Major Players sorted in no particular order